Rachel Douglas-Jones , October 6th, 2021
As I finished reading Ballestero's A Future History of Water, the world observed World Water Day 2021. Organized by the United Nations, it has been observed annually each…
Ishita Dey , October 23rd, 2020
How does one reproduce the taste, smell and appearance of any craft based/ industrially produced food commodity? Tea is one of the many beverages with roots in colonialism….
Tanya Matthan , October 23rd, 2020
Sarah Besky's ethnographically and historically rich study of the Indian tea industry begins with a deceptively simple question: what makes a good cup of tea? The answer, it…
Sabine Parrish , October 23rd, 2020
As I write this, in the uncertain and tumultuous times of early June 2020, there is a storm brewing in the world of British tea drinkers. On June…
Nimisha Thakur , October 6th, 2020
The cover of Dana Powell's book, Landscapes of Power, taken from a painting by Diné teacher and muralist James B. Joe titled Bleeding Sky, is our first glimpse…
Lena Gross , October 6th, 2020
In her monograph Landscapes of Power, Powell takes the proposed – at the time of her initial fieldwork – development project of the coal plant Desert Rock on…
Susannah Crockford , October 6th, 2020
In Landscapes of Power, Dana Powell maps a failure: the proposed Desert Rock power plant which never came into being       beyond paper thin promises made via PowerPoint presentations….
Ruben Andersson , September 27th, 2019
Where do we draw the line of separation? Who draws it, and for which purposes? When the former interior minister of Italy, Matteo Salvini, launched his little war…
Ignacio Fradejas-García , September 26th, 2019
The NGO personnel in Gaziantep's office (Turkey) was in shock. Little groups were talking loudly in Arabic, or keeping their lips firmly closed. "It was an air-strike", my…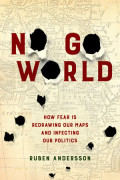 Sébastien Bachelet , September 25th, 2019
Andersson's new opus is a haunting and insightful examination of those remote zones of danger and insecurity that are distant yet at the centre of 'our new world…
Anna Tuckett , September 24th, 2019
As neo-nationalists gain strength across Europe and the promise of 'strong' borders continues to gain traction with electorates across the world, we need few reminders of the paradoxes…
Kevin Donovan , July 3rd, 2015
This post represents the final part of our special review section on Money From Nothing: Indebtedness and Aspiration in South Africa. Check out the first installment here. The legacy…
Isabel Scarborough , June 30th, 2015
This post marks the first installment of our special review section on Money from Nothing. Deborah James' Money From Nothing traces the evolution of credit and debt in post-apartheid South…