Tag:
Environmental issues
Alma Gottlieb , June 28th, 2019
What can an anthropologist (who specializes in humans) learn from an unlikely species (like a goose)? Plenty, it turns out. My husband and I went goose-banding the other day,…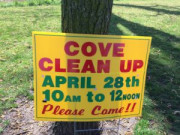 Alma Gottlieb , April 30th, 2018
The curse of the anthropologist: finding culture everywhere in nature. Today, the neighborhood in which my husband and I now live hosted a cleanup in a nearby cove….
Alma Gottlieb , June 1st, 2015
Cleaning up beach waste in the form of abandoned rubber flip-flops . . . recycling landfill-able castoffs . . . training low-income men and women in job skills and…