Tag:
information and communication technologies (ICTs)
Natasja Kingod , July 12th, 2021
Karen, who has lived with type 1 diabetes for three years, explains how she is only just starting to properly manage her daily self-care, and how it interrupts…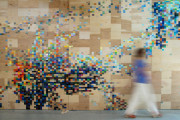 Dörte Bemme , August 28th, 2020
Laurie Frick, "Mood + Quantify" (2011-13), Lasercut paper, wood, blocks, laminate. Covid-19 and the associated social distancing orders have normalized and accelerated the use of digi…
Bo Kyeong Seo , April 24th, 2020
[Mapo District] The 15th confirmed case occurred (return from overseas, Sangsu-dong). For more info, please check on our website and blog.  [Yeongdeungpo District] The 22nd Corona case confirmed….
Tanja Ahlin , April 2nd, 2019
On a sunny, stifling afternoon, my friend, an Ayurvedic doctor, ushers me into a scantily furnished examining room of his clinic in central Kerala, South India. There, a…