Tag:
Multispecies Ethnography
Anthropology365 , July 12th, 2021
I am conducting research across Texas on Human and javelina relations. I am interested in how humans and other animals negotiate space at sites of encounter. During this…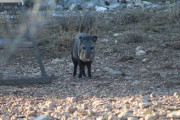 Anthropology365 , March 8th, 2021
I have been working with javelinas in Texas for nearly a year. My first encounter with them occurred at Big Bend National Park and I have since visited…
Anthropology365 , December 8th, 2020
My first glimpse of a peccary/javelina at one of my fieldsites. I am currently working on a manuscript exploring the ways that both literal and metaphorical shadows produce…
Anthropology365 , October 31st, 2020
Here is some javelina video during fieldwork on October 30, 2020.

Anthropology365 , August 21st, 2020
Upon entering the warmest room in our house, we are greeted with the subtle smell of earth. In this room is a 36″X18″X12″ bioactive habitat with two small…
Johnathan Favini , July 14th, 2020
Monsters, the nightmarish figures we conjure in the dark, reflect our own culturally and politically specific anxieties. They are a dark mirror: a terrifying rendering of a social…
Alex D'Aloia , May 31st, 2020
The Familiar Strange · Ep #59 The Palm Oil Frontier: Sophie Chao & Walking the forest with the Marind People "Because for a few hours, maybe sometimes a…
Anthropology365 , May 5th, 2020
Dr. Sarah Pollock and I braved the scorching heat (>95F) to look for snakes around little water around Culebra Creek Park. Special Guests: Lots of ribbons snakes and…
Alexandra Frankel , May 16th, 2019
In Queens, a pigeon is one of the multispecies family. Emily Leshner and Ben Boteler Negrito lives the life of a typical New Yorker; he wakes, eats, goes…
Matt Thompson , November 18th, 2016
Savage Minds welcomes guest blogger Cthulhu, Great Old One and Special Collections Librarian at Brown University. When the puny mortals at Savage Minds invited me to review the…
Catherine Munro , December 15th, 2015
Two pairs of eyes looked at me from across the table waiting for my response. A third pair joined them. The four day old lamb cradled in my…