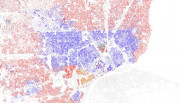 guestauth0r , November 6th, 2017
Neighborhoods with median annual incomes below US$25,000 were nearly 2 decibels louder than neighborhoods with incomes above $100,000 per year. And nationwide, communities with 75 percent black reside…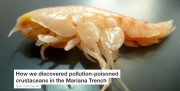 guestauth0r , August 14th, 2017
A trench amphipod, Hirondellea gigas, from the deepest place on Earth: Challenger Deep in the Mariana Trench (10,890m). Alan Jamieson, Newcastle University, Author provided Alan Jamieson, Newcastle Un…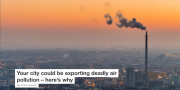 guestauth0r , August 7th, 2017
Goods and services produced in one region for use by another region are responsible for 22% (762,400) of air pollution-related deaths worldwide.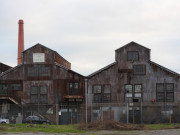 guestauth0r , July 31st, 2017
Notions of "sustainability" and "urban greening" ought to include values of justice and equity. Otherwise, important projects like the Blue Greenway will build sustainable waterfronts for the urban…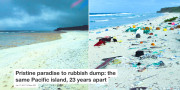 guestauth0r , July 17th, 2017
Remember, this is not waste that was dumped directly by human hands. It was washed here on ocean currents, meaning that this is not just about one beach…

Josh Lepawsky , April 24th, 2017
How might thinking through repair in terms of space change how we think about – and practice – repair? In what follows, we describe four cases from our…

Max Liboiron , April 20th, 2017
Repair and waste share many points of convergence from an analytical perspective (as well as a practical one!). Continent has just released a special issue all about repair:
Max Liboiron , December 13th, 2016
Why negotiate with poor Indigenous communities sitting atop valuable oil, water, wood and ore if they can be pushed off their land with hidden criminal, political and misogynistic…
Alex Zahara , May 26th, 2016
The technosphere refers to a new layer on the planet made up of "the interlinked set of communication, transportation, bureaucratic and other systems that act to metabolize fossil…
Max Liboiron , March 7th, 2016
Toxics: A Symposium on Exposure, Entanglement, and Endurance was heralded as "the most important conversation on body burdens yet." See the Twitter version of that conversation here.
guestauth0r , January 11th, 2016
A pair of new publications focus on the "chicken or egg" question in environmental justice: Are present-day disparities around hazardous sites the result of a pattern of placing…
guestauth0r , September 15th, 2015
As the excesses, effluents, and excreta of larger social spheres are discarded, discounted, and possibly denigrated, what happens at those margins where they recirculate? What fissures in prevailing…
Arn , July 20th, 2015
How do you communicate permanent pollution and toxicity to future generations? We held workshops with community members in Yellowknife and Dettah to make models about they would communicate…
guestauth0r , July 20th, 2015
Even if Mary Douglas' Purity and Danger is the keystone text of Discard Studies, there are few scholars who work to extend, nuance, or contest the theory that…