Ethnohistory Research, LLC | David G. Lewis, PhD , November 11th, 2021
There are numerous oral histories from tribal people in Oregon about catastrophic events, fires, volcanic eruptions, floods, tsunamis. Many of these stories are fantastically imagined and are likely…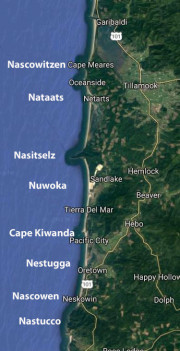 David G. Lewis' Ethnohistory Research, LLC , May 11th, 2018
The next section map of the coastline, (770c) begins with Cascade Head and ends at the Cape Meares. Every major feature of the Coast has a Native name….
David G. Lewis' Ethnohistory Research, LLC , April 20th, 2018
William Raymond was a sub-Indian agent from 1851 until at least 1857. He administered the tribes first at the Astoria sub-agency, then later moved the agency to Tillamook….