Theresa Lenz , July 17th, 2021
Heutzutage ist es ganz normal, Restaurants oder Cafés im Internet ausfindig zu machen und anhand von Bewertungen zu vergleichen, um schließlich eine Kaufentscheidung zu treffen. Hinterher wird das…
Maximilian C. Forte , June 28th, 2019
"For as long as I can remember, I always wanted to make a film about libraries," explains Ben Lewis, the director of Google and the World Brain (2013)….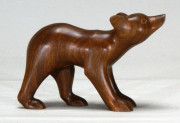 Jason Baird Jackson , November 10th, 2018
A guest post by Emily Buhrow Rogers. A carved bear by Amanda Crowe (Eastern Band Cherokee) from the collections of the Mathers Museum of World Cultures, Indiana University….
Verónica Reyero , February 26th, 2018
In six months' time, one of the most pioneering and innovative events in applied anthropology of Europe will be held. Why the World needs Anthropologists: Designing the Future,…
Rex , August 14th, 2017
When Google engineer James Damore wrote his now-infamous memo about how woman are naturally unsuited to work at Google, anthropologists everywhere groaned inwardly. Our discipline's lot in life…
Grant , June 22nd, 2017
[this post first appeared on Medium] I was in Portland last week looking for artisans to interview for the Artisanal Economies Project and stumbled upon a vintage clothing…
Liu Yijia , August 27th, 2016
Seit über 20 Jahren erfreuen sich die kleinen Monster auch in China größter Beliebtheit. Nur erlaubt sind sie nicht – ebensowenig wie die mobile Version, die kürzlich auf…
Megan Carney , February 9th, 2016
Director of NIMH Leaves for Google to Develop New Technologies There is a growing trend among large companies in the private sector to join in health promotion efforts,…
Angela VandenBroek , September 3rd, 2015
The New Google Logo At first, I loved the new Google logo. It has been long overdue for an update and I think in a lot of ways…
Gabriele , November 17th, 2014
屌丝一个: "Seriously speaking, is 100 wan enough to get out of China?" 飞飞: "You Baidu yixia first, see which country is a bit more reliable" Failed suggestion for…