Tag:
Highly Accurate Pictures of Anthropologists
Guest Contributor , June 11th, 2019
Found Poems on "Scholarly Knowledge" from Promotion Review Letters by Dr. REDACTED, Professor of Anthropology, REDACTED University Dedicated to Dell Hymes, who once said, "One should react to the…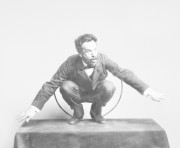 Rex , January 12th, 2018
Ya'll know what I'm talking about, right? Franz Boas posing for figure in USNM exhibit entitled "Hamats'a coming out of secret room" 1895 or before. Via the Smithsonian….