Tag:
Muziek, kunst & media
standplaatswereld , September 9th, 2020
By Quirina Geijsen Face masks, you can see them everywhere now. They come in different shapes and sizes and are offered in multiple choices of the most beautiful…
standplaatswereld , June 17th, 2020
Musical journalist Andrea Voets maakte een sociale roadtrip door Griekenland, op zoek naar uitwegen uit een sterke onderstroom van eenzaamheid in de samenleving. Samen met 150 jonge Grieken…
standplaatswereld , March 4th, 2019
Beeld: nasrdinspeelt.nl Door Matthias Teeuwen en Elisabeth IJmker JA! is de nieuwste theatervoorstelling van Nasrdin Dchar (met regie van Floris van Delft), wij bezochten het in Stadsschouw…
standplaatswereld , January 9th, 2019
By Peter Versteeg A waiting room with benches and very bright light from a fluorescent tube. Clothes and shoes lying all around. There's sand on the floor. I…
standplaatswereld , December 17th, 2018
By Matthias Teeuwen           "What becomes of the medium of film in the hands of an anthropologist?" asks Mattijs van de Port in the introduction to his new…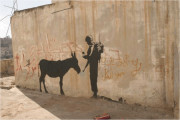 standplaatswereld , October 27th, 2018
By Peter Versteeg In 2007 street artist Banksy organized a project called Santa's Ghetto in the city of Bethlehem, where international artists would work on the ('security' or…
standplaatswereld , May 7th, 2018
By Rhoda Woets Almost every month, I join a small group of anthropologists from the VU to go to the movies. Last month, we went to the action…
standplaatswereld , October 18th, 2017
By Dominique van de Kamp         During the pre-master of Social and Cultural Anthropology, we followed a course called "Core themes of Anthropology," by Ton Salman….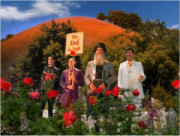 standplaatswereld , June 26th, 2017
By Peter Versteeg                  Recently Chris Cornell, singer of the bands Soundgarden and Audioslave, died. Soundgarden is probably best known for their early nineties song 'Black Hole Sun', whic…
standplaatswereld , February 20th, 2017
Dr Paolo Favero giving his AALS lecture at the Vrije Universiteit, Amsterdam By Matthias Teeuwen    Last AALS lecture was an inspiring and thought-provoking presentation by Dr. Paolo Favero…
standplaatswereld , December 23rd, 2016
Still from 'Inside the Mind of Favela Funk' By Ina Keuper         On 7 December the Department of Social and Cultural Anthropology organized its second Ethnographic…
standplaatswereld , May 21st, 2016
Barok musici in San Ignacio de Moxos, Bolivia Door Ton Salman            Het zijn, wereldwijd, tijden van eerbetoon aan culturele tradities. Tot en met in de vakantiefolders worden de "authentieke…