Zehra Hashmi , May 6th, 2021
In 2019, the Pakistan Electronic Media Regulatory Authority notified television channels that they were not allowed to host the Pakistani Senator Hafiz Hamdullah on air. The reason: Hamdullah…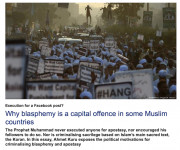 Baird Campbell , May 21st, 2020
We're wrapping up our five-part series, "COVID-19: Views from the Field," with a pre-recorded roundtable. This roundtable brought our authors into conversation with each other, acros…
Baird Campbell , May 5th, 2020
In celebration and recognition of Asian American and Pacific Islander Heritage Month, take a look back at some of our favorite past posts from and about the region….
Sonia Qadir , April 30th, 2020
   اردو میں پڑھنے کے لیے یہاں Click کریں Editor's note: This post is the third in our five-part series "COVID-19: Views from the Field." Click here to read…
Nils Heininger , February 13th, 2020
Pakistan ist gemeinhin als streng muslimisches Land bekannt. Von der Weltpresse als konservativ, gar terroristisch gescholten, haben weltpolitische Ereignisse das Land nicht im besten Licht präsentie…
colinhoag , November 12th, 2019
By Maira Hayat, Stanford University § In 2015, local elections were held in Pakistan, ten years after the previous ones in 2005 during General Pervez Musharraf's military rule….
The Familiar Strange , February 27th, 2019
Dog keeping is a polluted, unholy, and prohibited practice in rural Pakistan. Many Sunni Muslims belonging to Hanfi jurisprudence consider the dog's mere presence in a house a…
Uzma , May 24th, 2018
A few years ago, I wrote a piece on making archaeology popular in which I recounted the ways in which archaeology became part of public discourse through television media, and…
Alexandra Frankel , March 15th, 2018
Waste water inspections open up questions about bureaucratic processes and interactions. In the summer of 2015, the top tiers of the Punjab political and civil administration met in…
anthropologyworks , January 4th, 2016
Sidney Mintz: Founder of the anthropology of food Cultural anthropologist Sarah Hill, associate professor at Western Michigan University, published an article in the Boston Review detailing the work…
tabsir , July 4th, 2015
In case you were wondering what kinds of books Bin Laden was reading, at least in his Pakistan compound before his demise, the U.S. Government has provided a…
gregdowney , April 26th, 2015
By Profs. Pervez Hoodbhoy and Scott Atran After he circulated his address to the UN Security Council on extremism (available here), Prof. Scott Atran received the following response…