standplaatswereld , June 13th, 2022
by Shunita Gerritsen With a loud, blunt clonk the ferry arrives. The gate slowly comes down while the flashing lights and loud beeping alert the impatiently waiting passengers….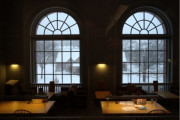 Yana Stainova , May 27th, 2021
Image 1. Photo of Rauner Special Collections library at Dartmouth College, taken from the perspective of Sienna's favorite table. Photo by Eli Burakian, 2014. Sienna Craig is a writer…
Nathalia Turincev , February 24th, 2021
Le 4 janvier 2021 English Version Madame la Maire, Si je vous écris aujourd'hui, c'est pour vous faire part de ma tristesse, et de mon indignation….
standplaatswereld , November 17th, 2017
by Georgette Veerhuis Two weeks ago I was catcalled while I was making my way through Hull, a port town located in east Yorkshire. This prompted a reflexive…
Oguz Alyanak , October 27th, 2017
On a late October day in 2016, police detained 17 journalists in a raid on the Istanbul offices of Turkey's oldest newspaper, Cumhuriyet, as part of the post-July…
Scott Schwartz , February 8th, 2017
The City University of New York (CUNY) is the largest urban university system in the country and ranks alongside the California and New York State systems for total…
Material World , September 13th, 2016
Joel Cahen (2012, revised 2016) With our present day awareness, the arts as we have known them up to now appear to us in general to be fakes…
Focaal Web Editor , February 11th, 2016
The planning of fieldwork in anthropology is always shaped by a combination of expectation, uncertainty, and adventure. Before I began my own fieldwork in Barcelona in 2013, I…
standplaatswereld , February 3rd, 2016
Bron: RTL Nieuws By Nynke van Dijck Some weeks ago there was a big storm in the Netherlands. 'Code Orange' was issued to tell people to be careful…
standplaatswereld , December 14th, 2015
sebastiendubey.com by Lucrezia Giordano Home is the private space par excellence. It is a place where people can develop their own micro-society, based on the relationship with a…
Carrie Ida Edinger , September 2nd, 2015
Graffiti is part of public visual culture that can represent a political stance or serve as an art form. An Anthropological documentation in a specific geographic site and…
mstalcup , June 15th, 2015
The editors of Anthropoliteia welcome Christopher Gaffney with a commentary on the current crisis at FIFA and its implications "Unfair Players" Photo by Christopher Gaffney CC BY-NC-PSA 4….