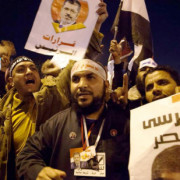 MPeterson , August 25th, 2017
It's one of the greatest controversies of the revolution: What would the state overseen by Egypt's President Morsi have looked like if he had not been ousted in…
Margaret Dorsey , August 4th, 2017
Well, look, we're going to have a border. It's going to be a real border, and we're going to build a wall and it's going to be a…
wirnita , May 26th, 2016
The editors of Anthropoliteia present to you the latest in our occasion series Interrogations, in which authors of recent volumes of interest to our readers discuss their work….
standplaatswereld , March 16th, 2016
Platanos refugee self-organised solidarity, Lesvos. by Dimitris Dalakoglou and Alexander Alexandrides Like most scholars who research the current refugee crisis and borders in Europe, we were surp…
anthropolitics , December 5th, 2015
I was excited to convene the plenary with Nancy Scheper-Hughes, Tess Lea and Greg Downey. Each of them have an amazing track record in bringing anthropology to bear…
Maximilian Forte , December 1st, 2015
This and previous issues have been archived on a dedicated site—please see: ENCIRCLING EMPIRE. For frequent updates, please "like" our Facebook page and/or follow on Twitter. Over the…
Maximilian Forte , October 20th, 2015
While it is an odd mix of physics, biology, and geometry that has captured the communications strategy of military planners, the messages themselves are very telling about how…
John Postill , April 20th, 2015
By Muzammil M. Hussain This is the eighteenth post in the Freedom technologists series. The following are some passages taken (with permission) from chapter 4 of Hussain, M….
anthropolitics , August 7th, 2013
This article first appeared in the Australian newspaper, Wednesday 7. August 2013 I am currently revising an article about my work in Malaysia with what can be described…